IHMP Training and Certification Standards (General)
IHMP offer the following general guidelines to conducting our certification programs worldwide but with some national standards exceptions, like the UK First Aid at Work must meet UK National HSE standards link here to our UK standards page.

Age groups and Training Class Structure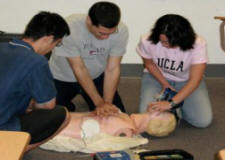 There are technically not any minimum or maximum age limits for first aid CPR training and certification, however we consider that minors (Classifed as children under the age of 15 years) should take a junior first aid program with an IHMP Certified junior First Aid instructor or trainer. As specialist care maybe required to train younger people.
Minimum age should be determined by ability to:
Understand the training materials and be able to pass the quizzes
Be able to perform CPR on an adult and a child
Be able to activate EMs / summon help by telephone
Offer Circle of Care monitoring skills
Class structure
Classes should be kept to small groups based on three factors:
Equipment: Equipment available to share i.e. Manikins should be a maximum of 4 students per manikin, to take turns working as two perosn CPR and then single person CPR skills. With a minimum of 10 strips each for each skills set. Oxygen equipment for Oxygen programs and AED units should also be a maximum of 4:1 (4 Students per unit)...
Classroom Space: Space available should be sufficifent to develop scenarios for primary and secondary assessments, and to offer a series of potentional hazards / risks to the student. In order that they develop a realistic understanding of dealing with risks...
Training Skills Time Allocated: Adequate time MUST be made for the practical application of skills, the more students in the class then skills training will take more time. We recommend a maximum of class size of 8 students to 1 instructor. 6:1 would be better and easier to manage and control.
Classroom Management
IHMP Instructors should follow the training guidelines as outlined in the IHMP Instructor guide for the course programs provided and to follow IHMP standards and training requirements, which will include:
Use of IHMP Authorised Training Materials, 1 set per student
Course materials MUST be purchased and read with quizzes completed prior to attending a class
Instructors will use IHMP presentations as support materials, making training "interactive" with use of questions
Instructors will guide and direct the practical application of skills
Instructors will assess and evaluate skills to real world environments, i.e. can the student apply skills as trained
Learning Environment
IHMP highly recommend a low stress learning environment and use of an informal teaching structure, this tends to relax students and helps them to more quickly develop the confidence they will need to perform the skills required to an acceptable pass standard for certification to be awarded.
Objectives of IHMP Training
Our overall objectives, are simply to provide a theory background education, followed by developing a high confidence level in the application and effective delivery of first aid and primary emergency care. Instructors will asses skills levels and attitude, aptitude and confidence to perform skills to the best of the students abilities.